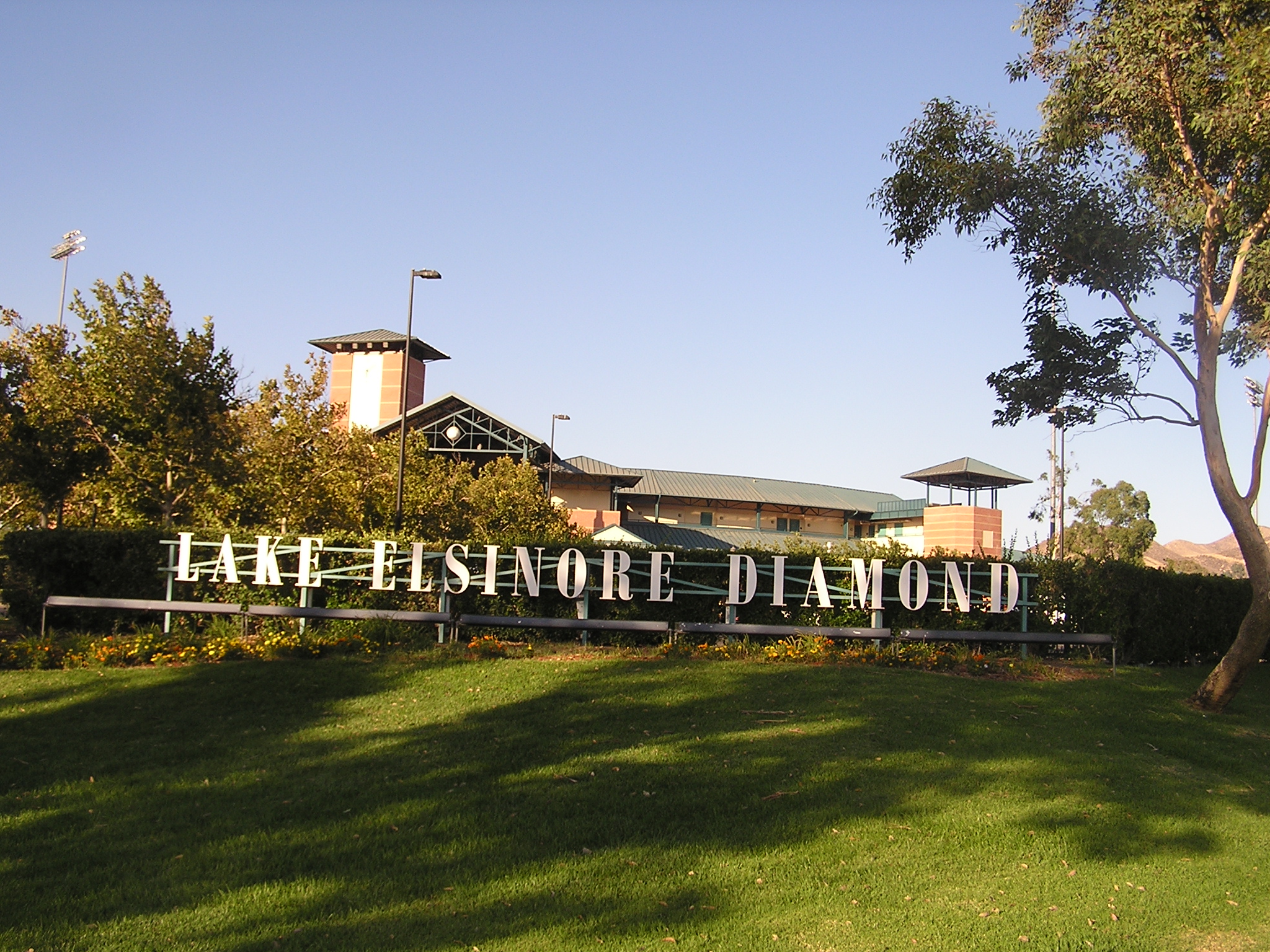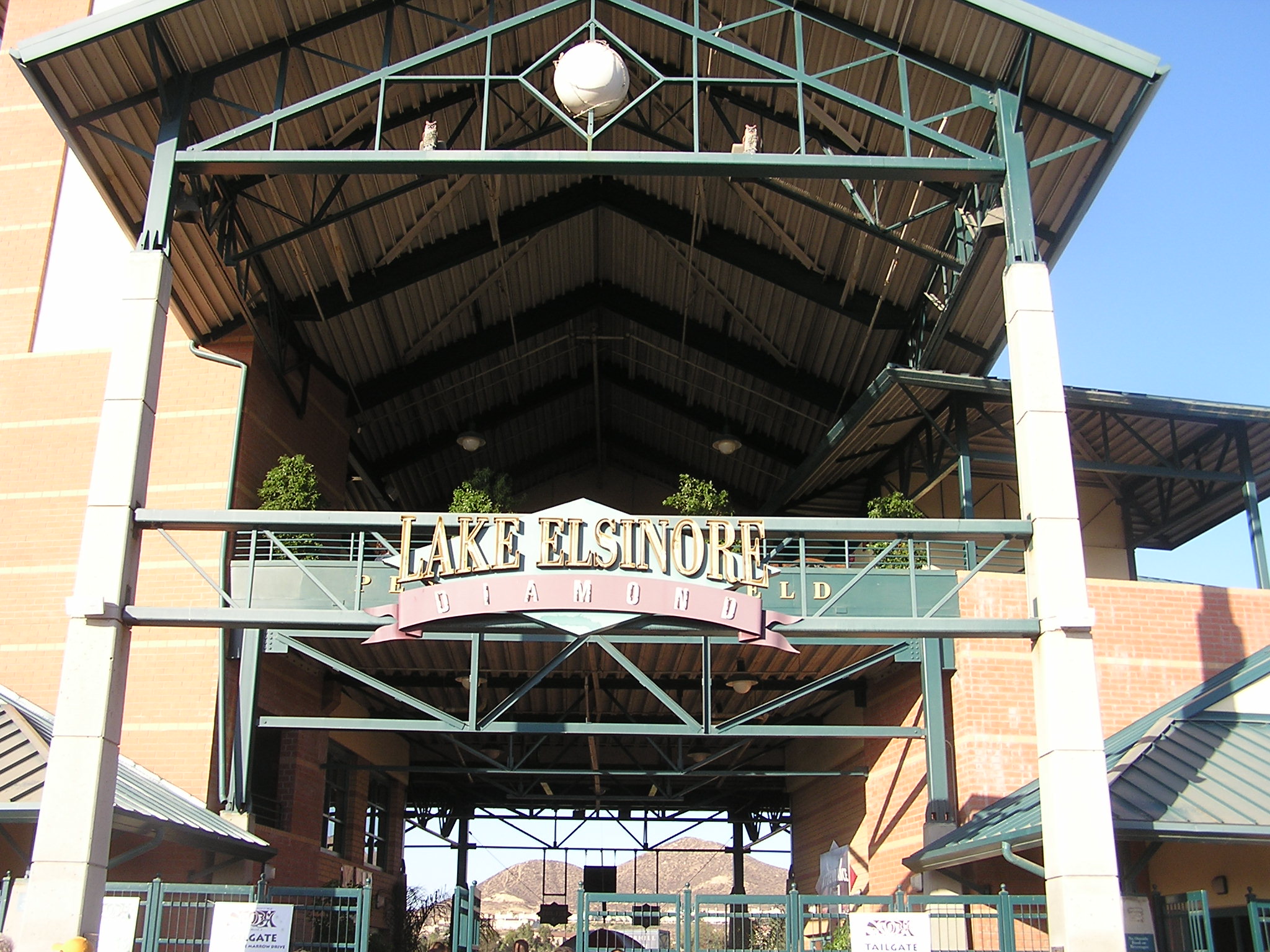 TEAM ::: LAKE ELSINORE STORM
LOCATION ::: LAKE ELSINORE, CALIFORNIA
MY FIRST VISIT ::: AUGUST 10, 2007
OPPONENT ::: STOCKTON PORTS
LEVEL ::: CALIFORNIA LEAGUE 'A'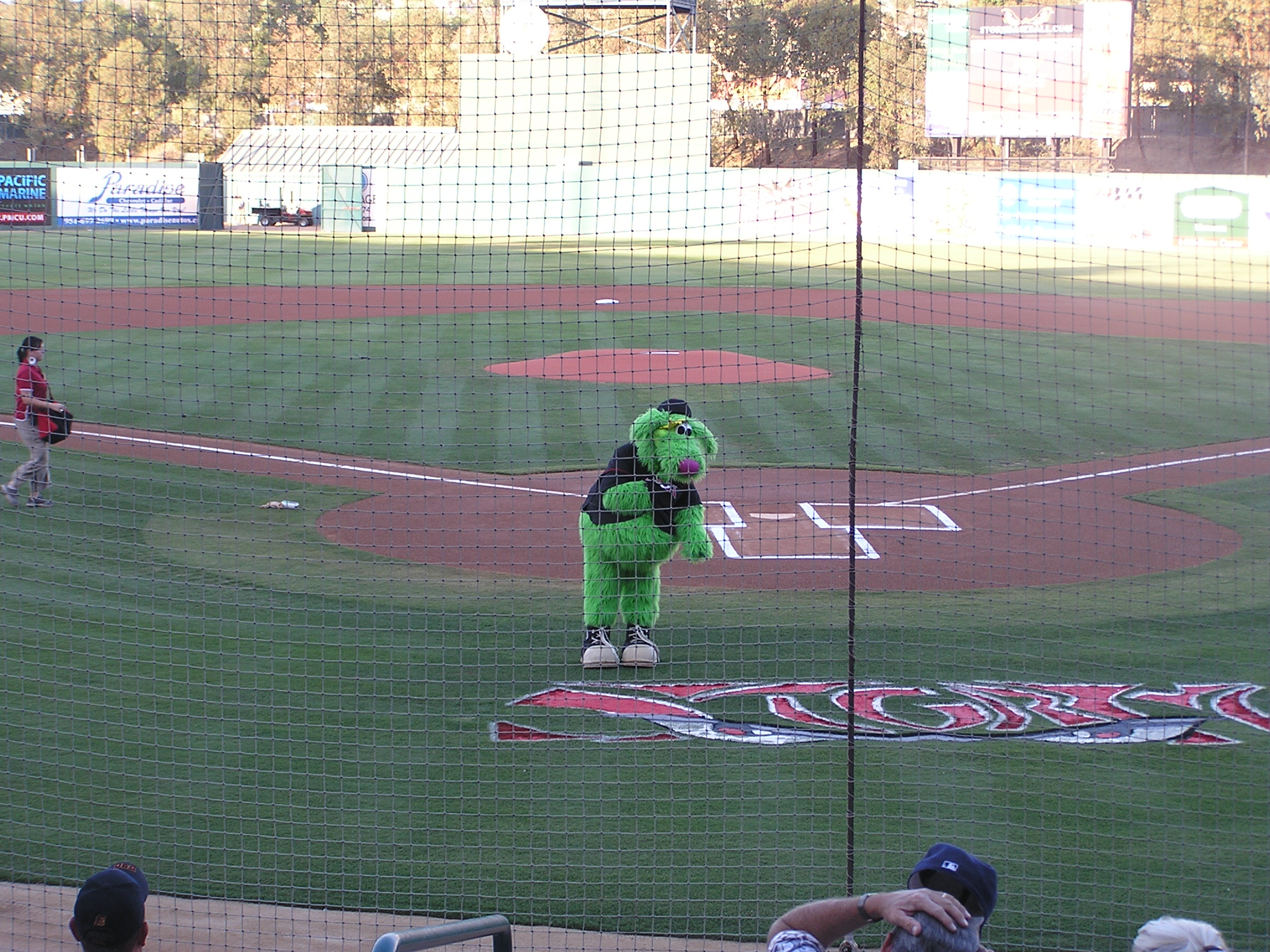 RATINGS
BALLFIELD ::: C -
SCOREBOARD ::: C -
FOOD ::: A
FACILITIES ::: A+
MASCOT ::: A++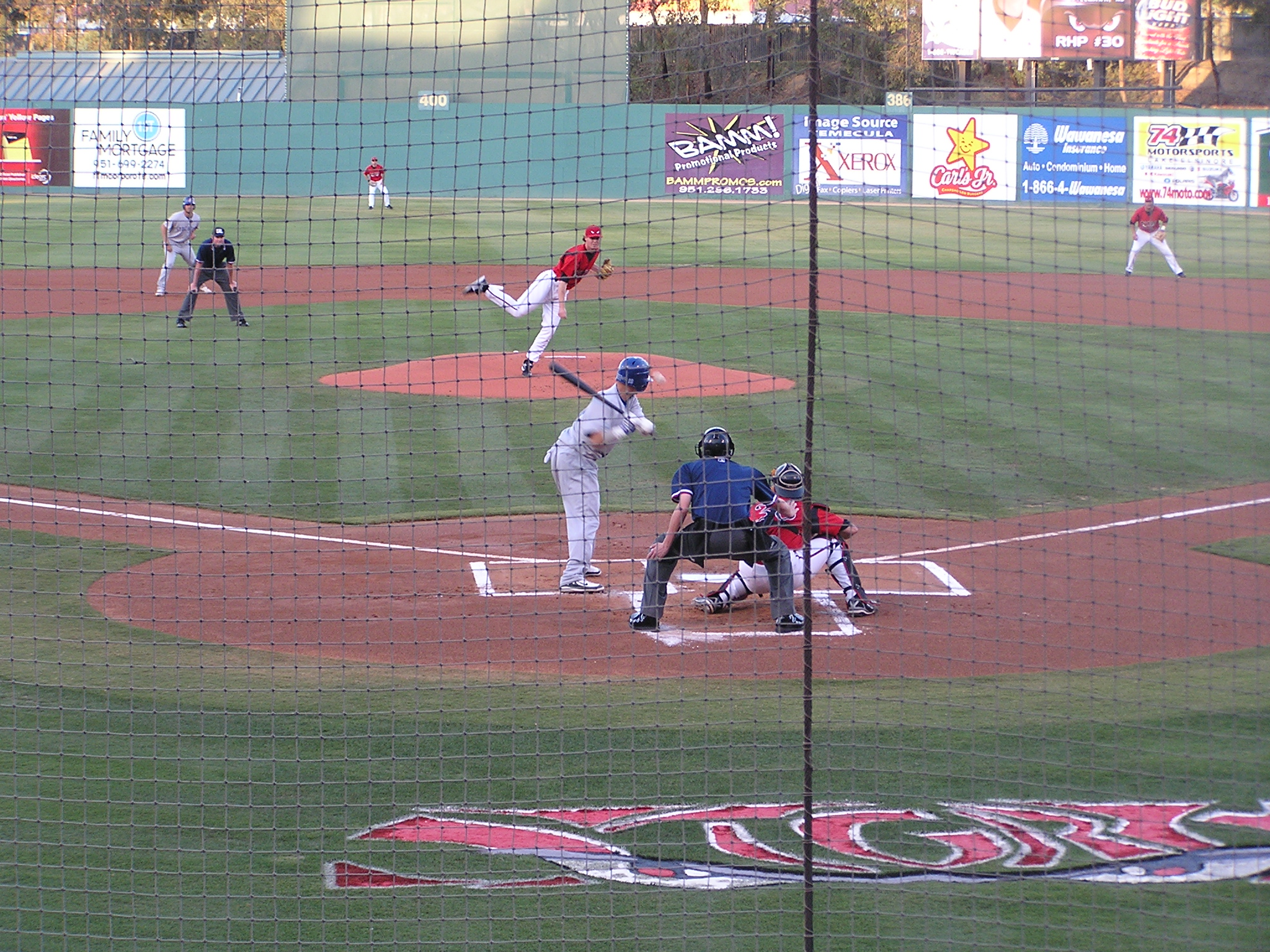 MY TAKE ON THE PARK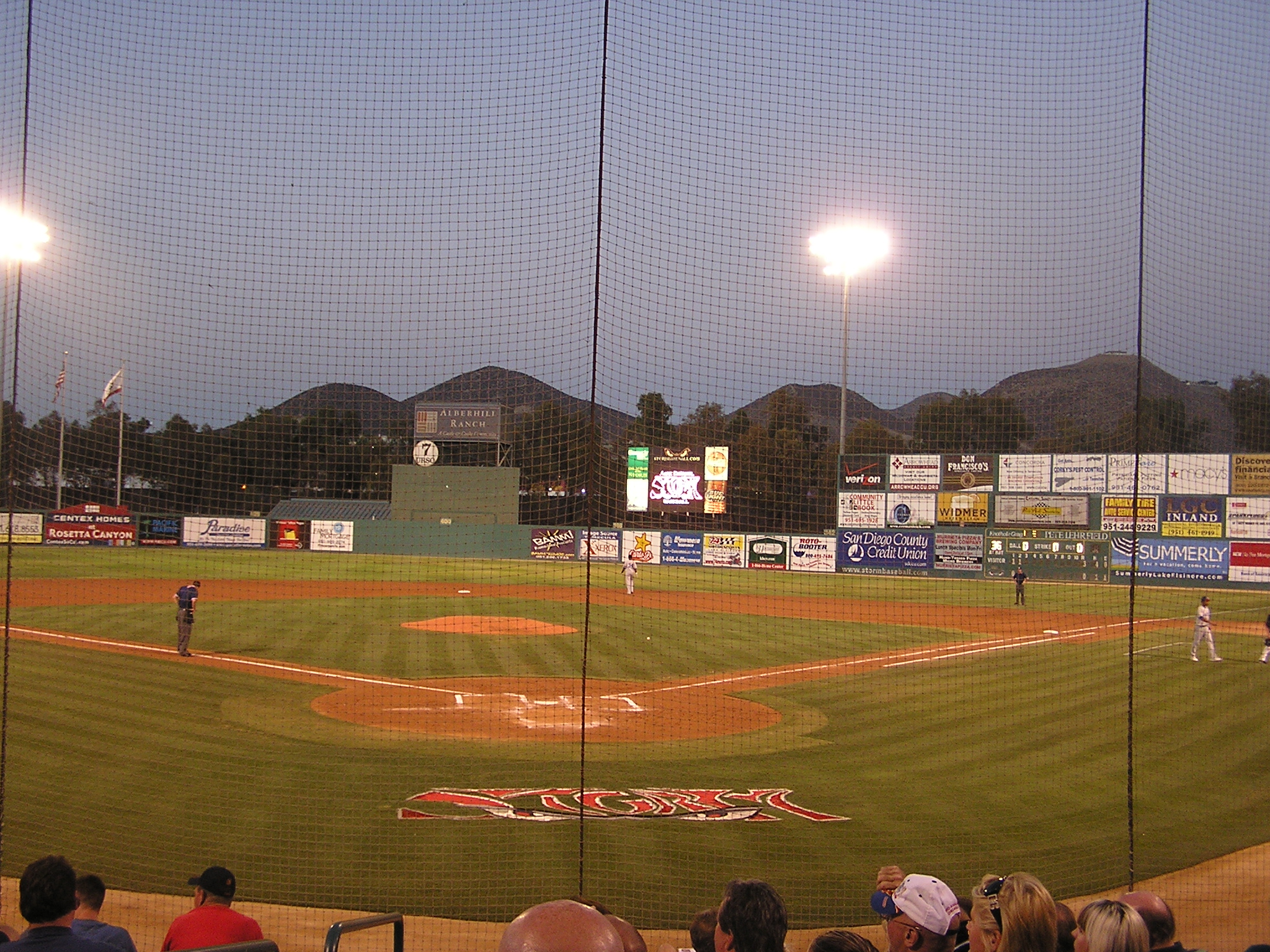 LAKE ELSINORE CAN BE FOUND ON THE LOS ANGELES PAGE OF YOUR MAP, IT IS THAT LITTLE TOWN ALL THE WAY DOWN AT THE BOTTOM.
IF THE TOWN IS AT THE BOTTOM OF THE MAP, JUST KNOW THAT THE BALLPARK IS AT THE TOP OF THE
LIST OF MINOR LEAGUE BALLPARKS.
AS SOON AS YOU ARRIVE TO GIVE THE PARKING ATTENDENT $5 TO PARK, YOU
KNOW YOU ARE NOT AT YOUR AVERAGE MINOR LEAGUE PARK. CUSTOMER SERVIVCE IS THE NAME OF THE GAME HERE AND THE STORM STAFF EXECUTE IT PERFECTLY.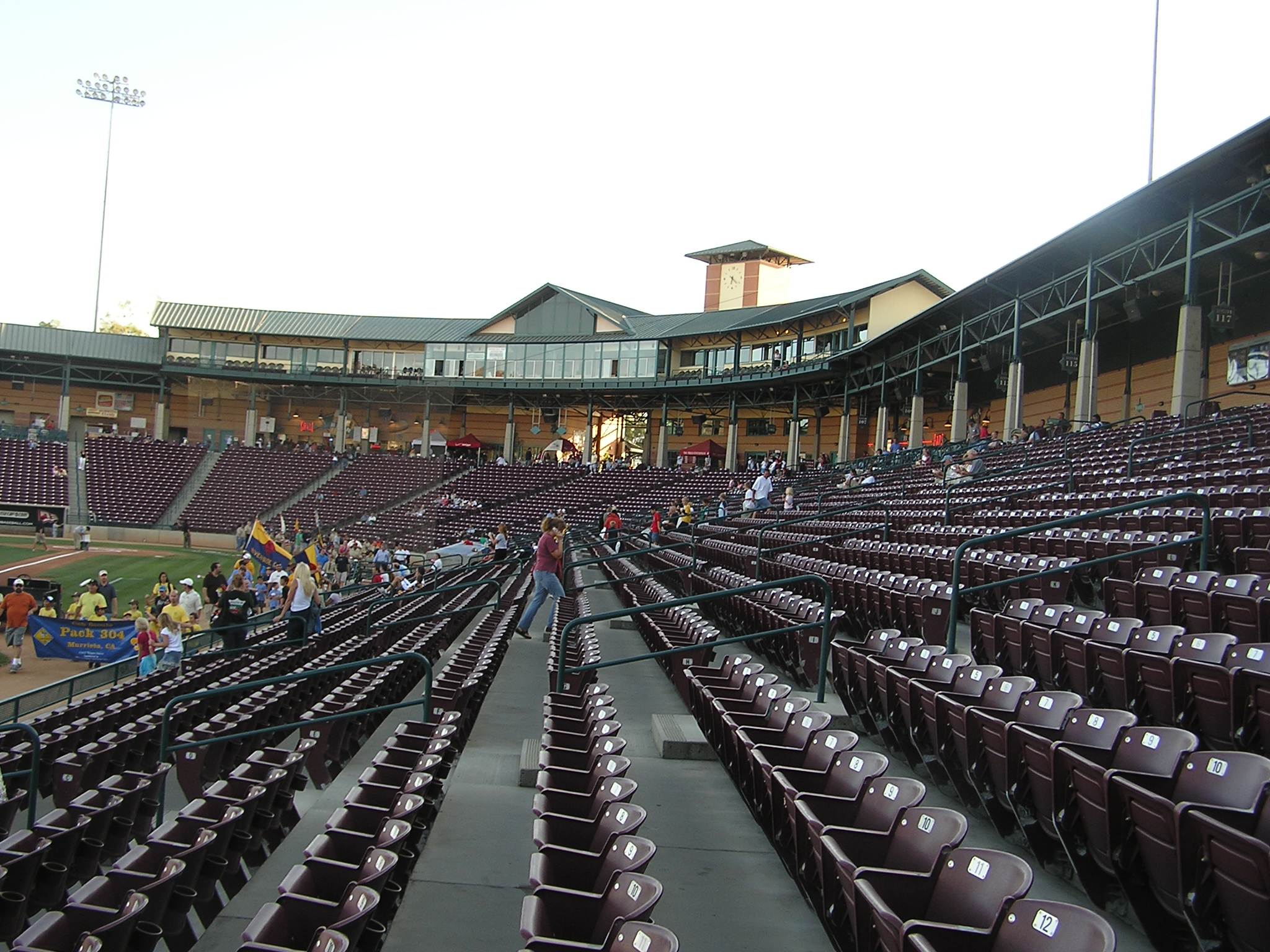 AMPLE PARKING AWAITS AND THERE ARE WHAT COULD BEST BE DESCRIBED AS CROSSING GUARDS AT EVERY POSSIBLE LOCATION MAKING SURE YOU ARE ABLE TO ACROSS WITHOUT GETTING HIT BY ANY TRAFFIC.
ONCE TO THE MAIN ENTRANCE WALKWAY, A WIRE SCULPTURE OF A PITCHER AND CATCHER GREET YOU. THE SCULPTURE WITH THE BACKDROP OF THE GRAND ENTRANCE MAKE THIS A SITE TO SEE.
ALSO, THE STORM HAVE FIGURED OUT THAT ADVERTISING IS THE KEY. ON MY
WAY IN I WAS GIVEN A FEW THINGS JUST FOR SHOWING UP; AN ICED COFFEE DRINK, PROMOTIONAL BASEBALL CARDS, A COOZIE, AND A BASEBALL. ALL FREE AND ALL HANDED OUT BY FRIENDLY PEOPLE WHO MADE ME FEEL ENTIRELY TOO WELCOME TO BE THERE.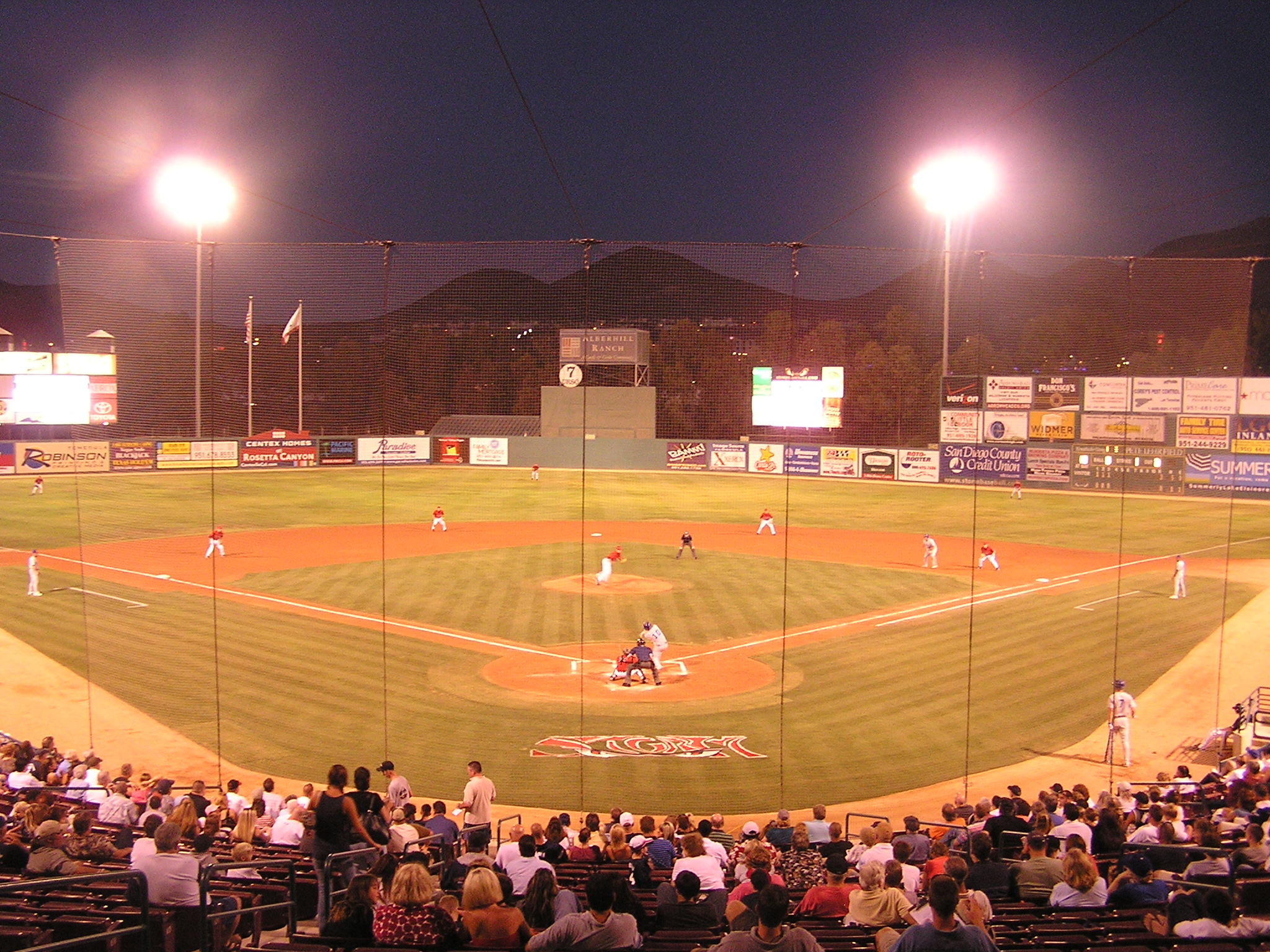 ONCE INSIDE, THE STAFF NOR THE SEATING AREA DISAPPOINT IN ANY WAY. A SEA OF MAROON SEATS SURROUND THE FIELD ALL WITH CUP HOLDERS AND SO MUCH LEG ROOM THEY COULD BE ACCUSED OF GIVING TOO MUCH.
THE MASCOT, THUNDER, IS TOP NOTCH MAKING EACH APPEARANCE ENJOYABLE. IF ONLY THE STORM OFFERED MORE OF HIS VIDEOS ON HIS MYSPACE PAGE, THEY HAVE A SOPRANO THEMED INTRO OF THUNDER DRIVING AROUND LAKE ELSINORE THAT IS PRICELESS.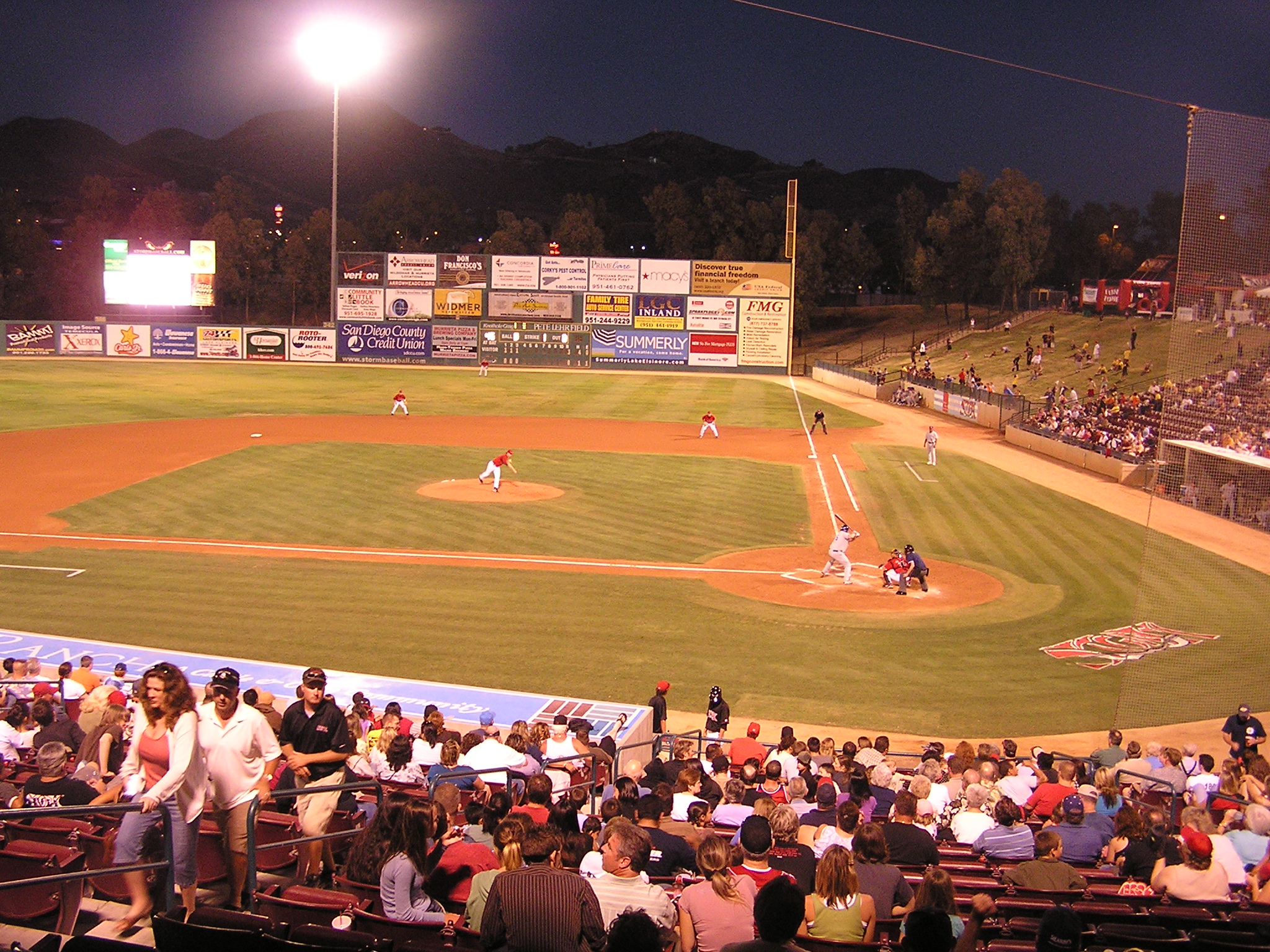 ONLY TWO AREAS HERE ARE NEGLECTED AND SADLY, IT HAS TO DO WITH THE GAME. FIRST THE SCOREBOARD. IT WAS MALFUNCTIONING THROUGH THE FIRST FOUR INNINGS BUT THEN GOT ITS ACT TOGETHER, A SURPRISE FOR A PLACE THAT OFFERED NOTHING BUT PLEASANT SURPRISES. I REALLY DO LIKE THE TWO STORM TOWERS
ON EACH SIDE OF THE BOARD, THEY REALLY PLAY UP THE WHOLE STORM THING IN A WAY THAT IS SURPRISINGLY KID FRIENDLY.
THE SECOND HIT THE PARK TAKES IS THE FIELD. NOT SINCE THE FIELD IN LOWELL MASS. DID I SEE A FIELD IN SUCH BAD SHAPE. THE OUTFIELD GRASS IN CALIFORNIA IS JUST NOT SUPPOSED TO LOOK LIKE THIS.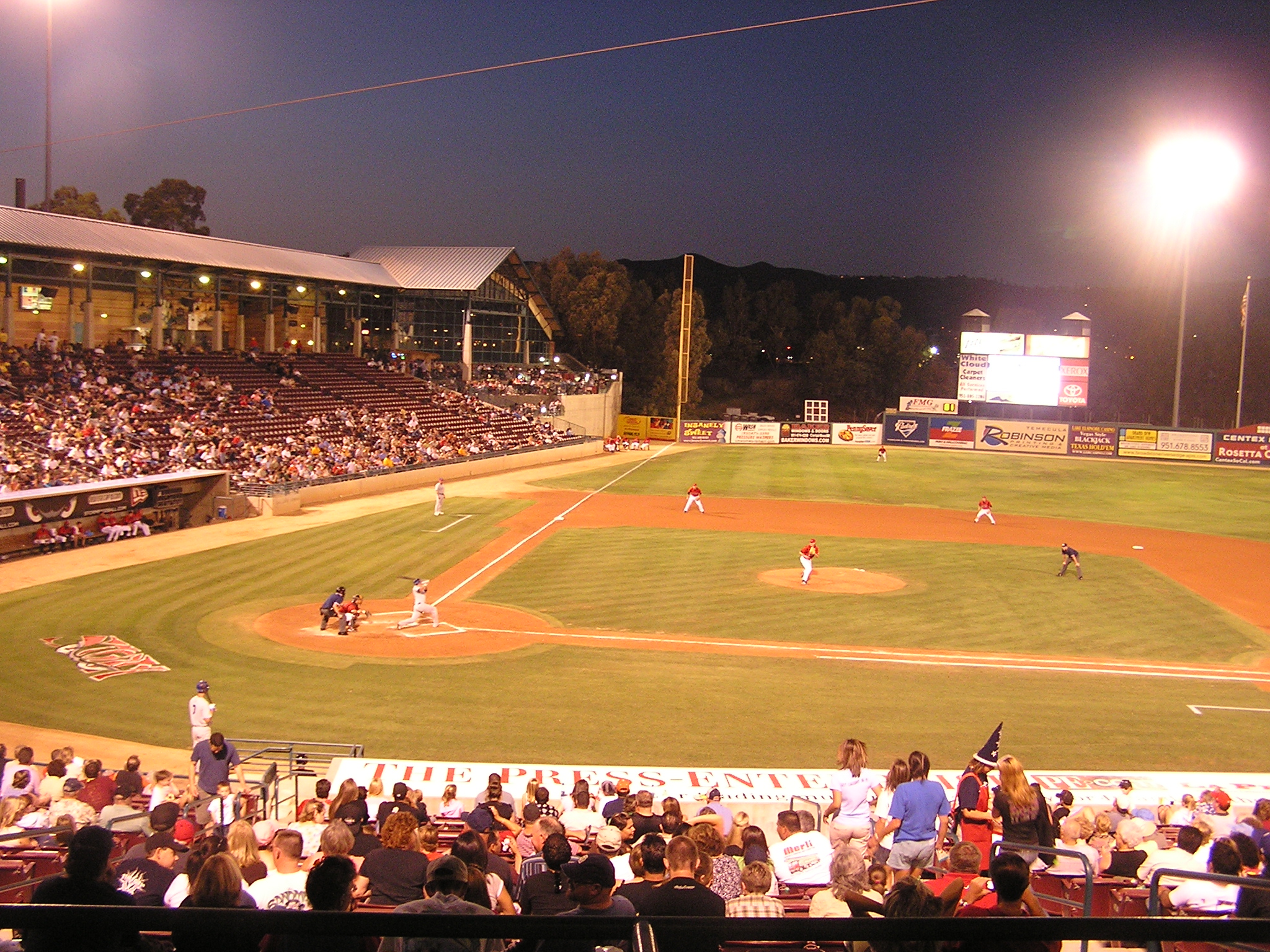 ALL THAT BEING SAID, A TRIP TO THE LAKE ELSINORE DIAMOND IS AN EVENT COMPLETE WITH ENTERTAINMENT AND A BALLGAME. WHO KNOWS, YOU MAY JUST
WALK OUT WITH A LOT OF FREE STUFF AS WELL.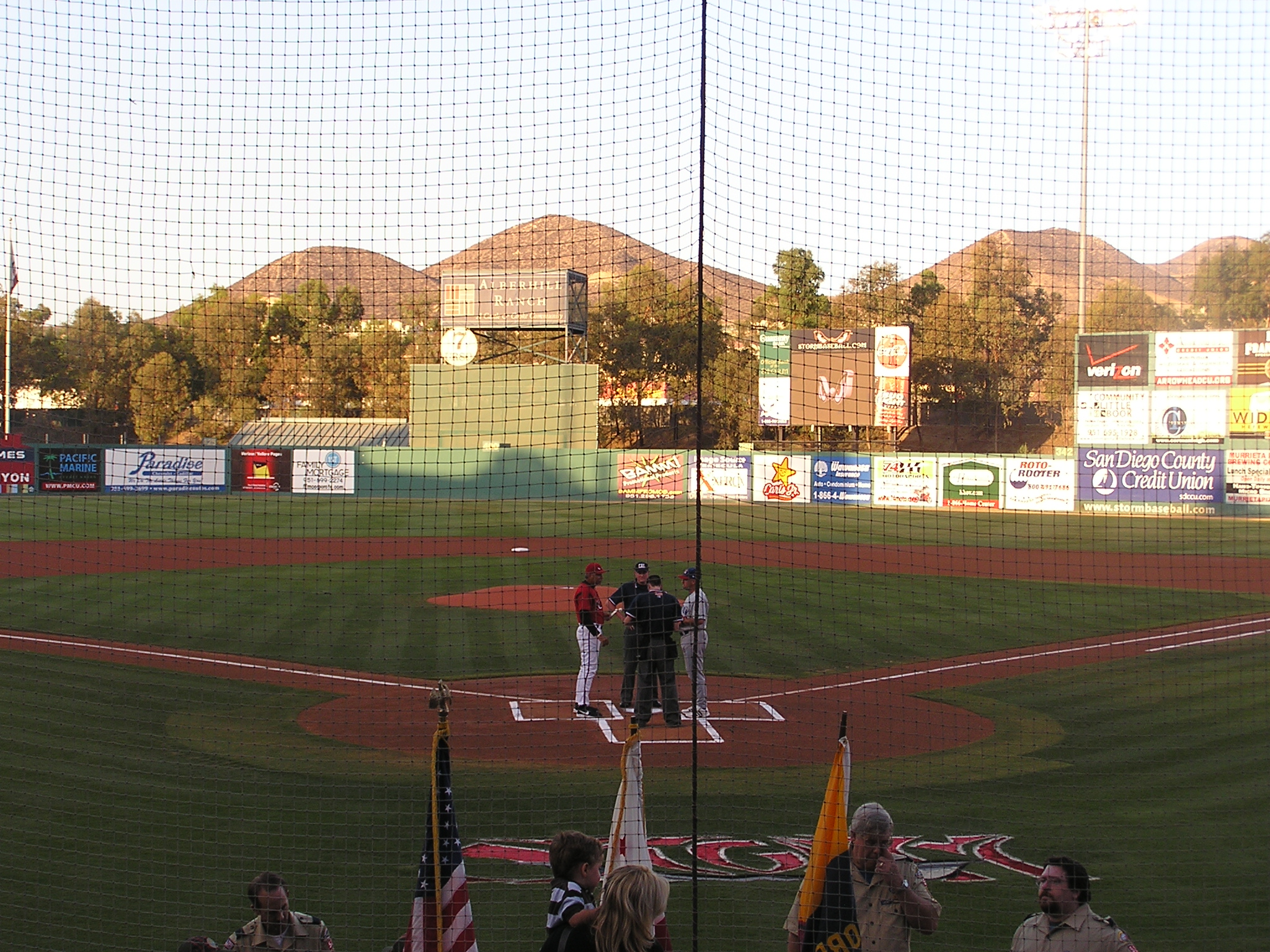 LINE UPS
STOCKTON PORTS MANAGER :::
31 Todd Steverson
LAKE ELSINORE STORM MANAGER :::
19 Carlos Lezgano
STOCKTON PORTS
28 Michael Affronti 2b
19 Justin Sellers ss
11 Chad Boyd rf
13 Jon Zeringue dh
34 Jose Pineda cf
46 Tommy Everidge 1b
10 Darryl Lawhorn 3b
7 Steve Kleen lf
9 John Brummett c
30 Vince Mazzaro p / LP
LAKE ELSINORE STORM
3 Josh Alley lf
9 Sean Kazmar ss
24 Mike Baxter rf
15 David Freese 3b
32 Kyle Blanks dh
25 Craig Cooper 1b
4 Seth Johnston 2b
36 Justin Hatcher c
1 Josh Howard cf
30 Greg Burke p
28 Ernesto Frieri WP
23 Wilton Lopez S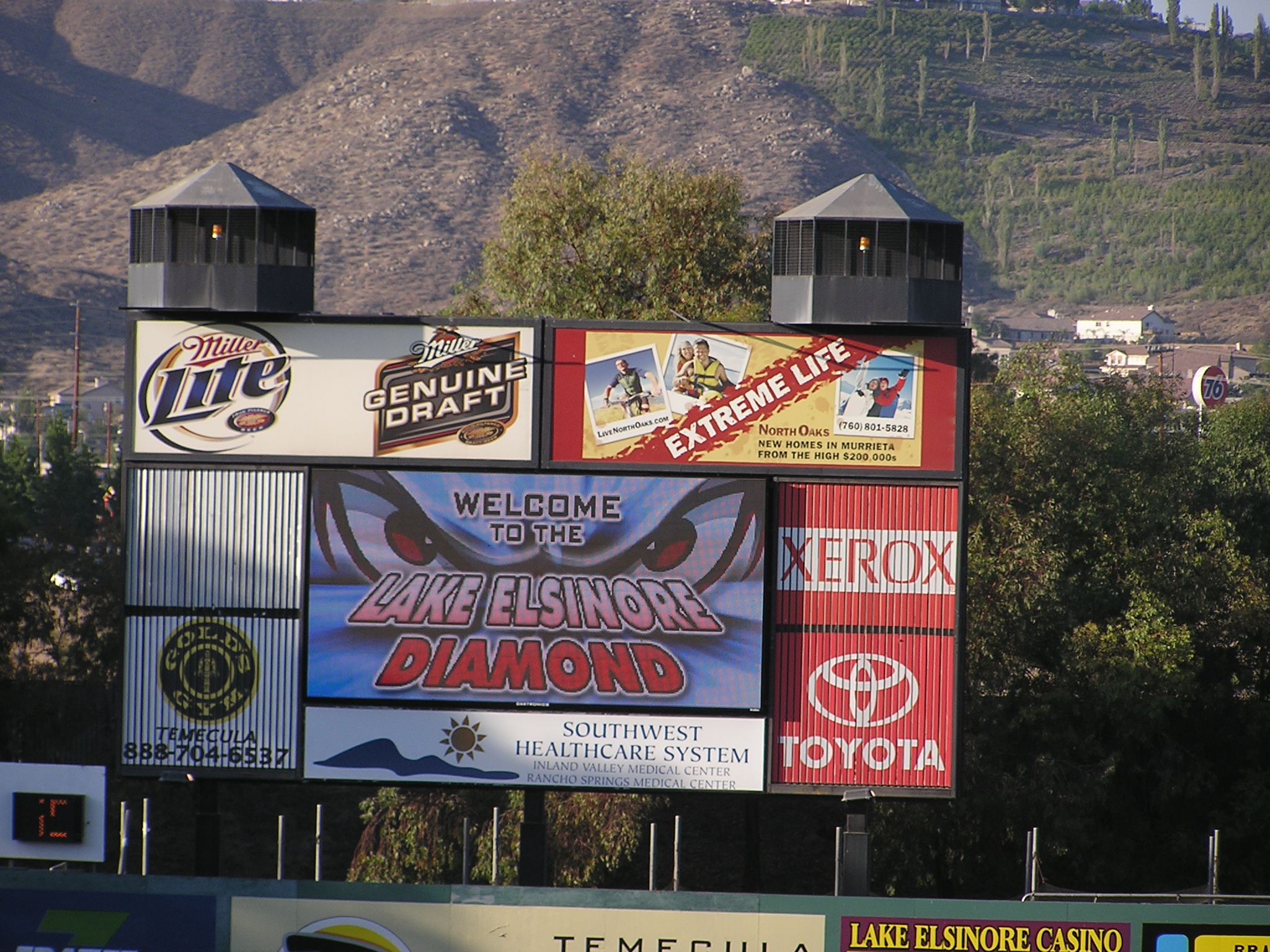 PORTS 111 101 000 5 8 0
STORM 000 125 00x 8 14 0
TIME ::: 3:07
ATTENDANCE ::: 3,709
WEATHER ::: 89 CLEAR COOL BREEZY
SEND ME AN E-MAIL

LINKS
The Official site of the Lake Elsinore Storm
Lake Elsinore weather from WEATHER.com
LAKE ELSINORE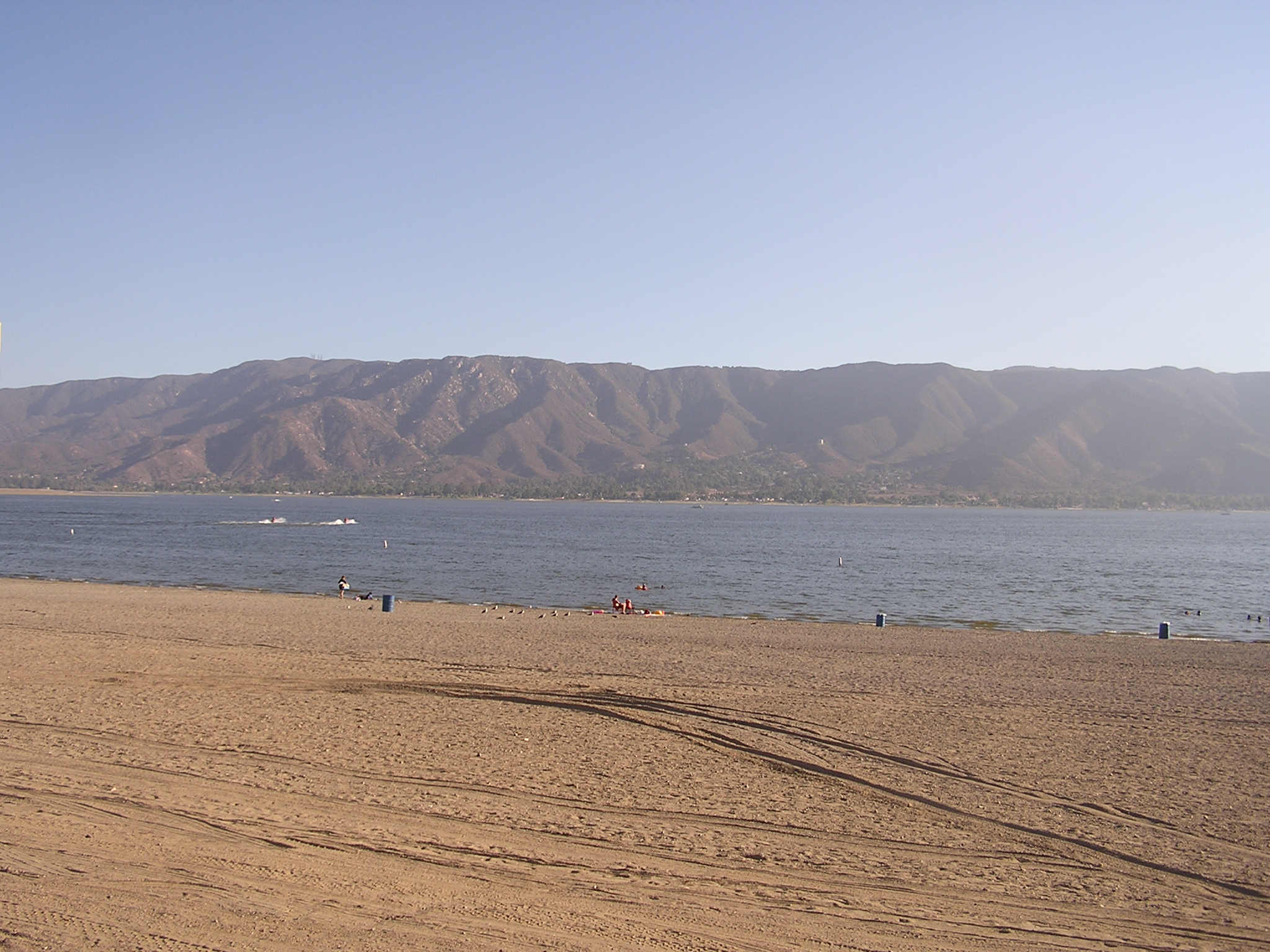 © 2000-2012 UNCLE BOB'S BALLPARKS
I AM IN NO WAY AFFILIATED WITH ANY OF THE TEAMS ON THIS PAGE ... THIS
PAGE IS MEANT FOR INFORMATION PURPOSES ONLY.